CS6x

and

CS6x Pak

User Interface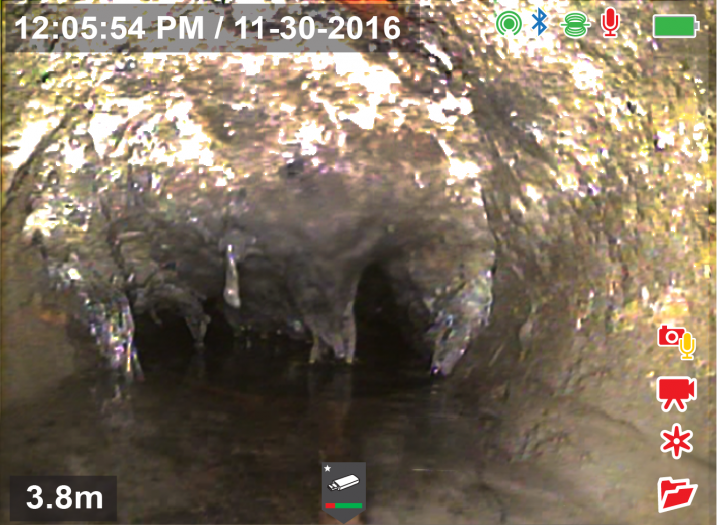 Icon
Description
Wi-Fi connected.
Wi-Fi not connected.

Bluetooth

enabled but not connected.

Bluetooth

connected.
Sonde is enabled and transmitting.
Microphone enabled.
Audio recording in progress.
Microphone disabled.
Battery power level indicator.
AC power.
Photo captured.
PhotoTalk™ created.
Video recording.
Video recording paused.
Autolog recording.

Autolog

video recording, motion detected.

Autolog

video recording paused.
A job is open.
USB drive inserted. Safe to remove the USB drive.
Do not remove the USB drive! Media is being written to the USB drive. Premature removal of the USB drive may result in data loss and corruption.
Media transfer complete. Safe to remove the USB drive.
View the software revision history for the RIDGID® SeeSnake® CS6x Pak digital reporting monitor for pipe inspections.
How to add company information to jobs and adjust system settings on the SeeSnake CS6x and CS6x Pak.
How to capture PhotoTalk media on CSx Wi-Fi enabled monitors, the CS65, and the HQx Live mobile app.
Learn how to record Autolog video, a compressed video format that leaves you more room for additional media.
How to save default inspector information to a RIDGID SeeSnake inspection monitor so you can quickly add it to reports.
Overview of performing a basic pipe inspection with a SeeSnake CSx Wi-Fi enabled monitor.
Capturing media, including photos, PhotoTalk images, Autolog video, and standard video on your CS6x or CS6x Pak.
Learn about connecting a CSx monitor to an Android device.
How to enter custom text that displays on a SeeSnake monitor screen and captured media.
How to quickly create and distribute inspection reports while on the job with a RIDGID SeeSnake monitor.
How to locate the path of a pipe by line tracing the push cable using a SeeSnake camera reel and monitor.
Learn how to create, open, preview, and manage jobs on the CS6x and CS6x Pak, as well as set USB options and job settings.
Learn how to share media using HQx Live with CSx monitors.
Finding points of interest in a pipe by locating the integrated sonde in a SeeSnake camera reel.