Sounds of the SR-24LE and SR-20
Sonde Mode
Use Sonde Mode to locate a sonde that is inside a pipe, conduit, or tunnel.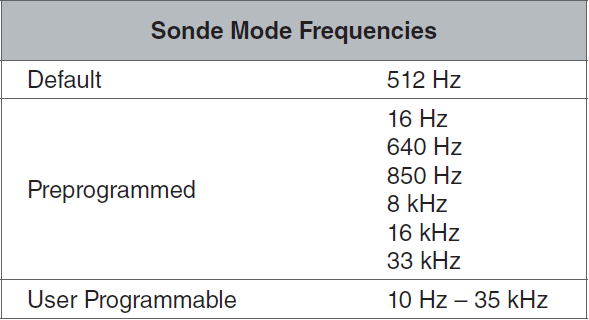 Note: Sonde Mode and Line Trace Mode can sometimes use the same frequency. Make sure the mode icon next to the frequency that you are using is the mode you intend to be locating with. Depth measurements will be in error if the incorrect mode is used.
User Programmable Custom Frequencies
The SR-24LE comes preprogrammed with a selection of frequencies that are set by default in Active Line Trace Mode, Passive Line Trace Mode, and Sonde Mode. You can also create custom frequencies to use the SR-24LE with transmitters from most manufacturers.
Note: Refer to the Custom Frequencies section for more information.
Audio
Volume Control
To increase and decrease the volume level of the SR-24LE's audio cues, first press the Volume Key

.
You can then either press the Volume Key to cycle through volume settings, or press the Volume Key

once and use the Up and Down Arrow Keys


to adjust the volume settings Press the Select Key to exit the volume settings screen.