In order to view live video on your computer/device coming from a WI-FI enabled SeeSnake Monitor, they must be connected via WI-FI.
The steps below show you how to connect your computer/device to a CSx monitor via WI-FI to stream video with the Windows HQ software.
Steps
 Go into your CSx monitor WI-FI settings and verify WI-FI is turned on, and it is in host mode in order to connect to your computer/device.
In your computer/device settings, go to the WI-FI settings and select your Ridgid CSx monitor from the list of WI-FI choices. Usually this is named with the model of your CSx monitor. For example, a Ridgid CS6x is shown connected in the picture of an example WI-FI list.
It is normal for your computer/device to say "Connected, no Internet" when you're connected to the CSx.
In HQ select your monitor from the list of available connections (see picture below) and select the live video button.
You should now be able to view live video from HQ. Use the buttons to the right of the screen to record media.
For further instructions on how to use HQ, please see the HQ Online Manual
If you are using an Android or iOS/Apple mobile device for video streaming, use the HQx Live mobile app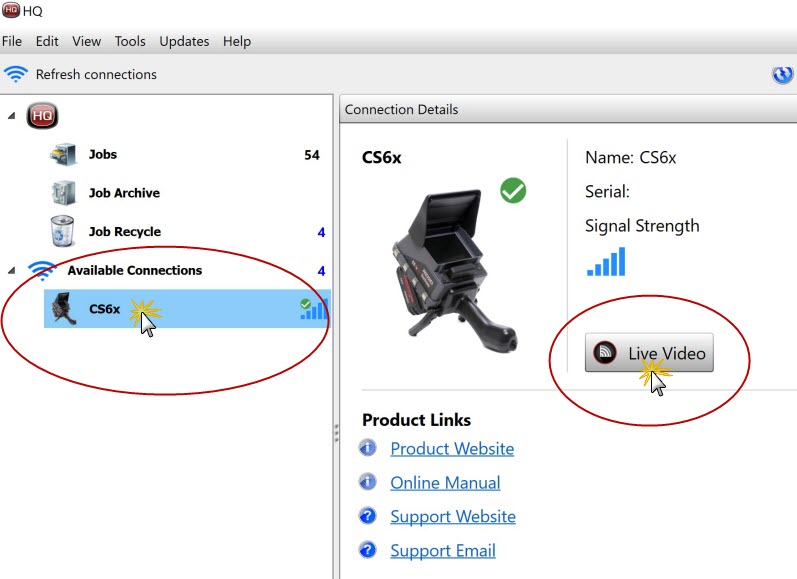 If you are having difficulty connecting to your CSx Monitor using WI-FI on your computer/device, please try the suggestions below.
Make sure your your 

CSx

 monitor has the latest software. Update if needed. Learn How.
If needed, update the HQ software on your computer/device. Learn How.
Make sure WI-FI is turned on, and in Host Mode in the WI-FI settings for your CSx monitor.
Verify WI-FI is turned on for your computer/device.
Move your computer/device closer to the CSx monitor.
Turn the WI-FI off and then back on for both the computer/device and on the CSx monitor itself. You may have to do this a few times. There are many variables that can affect WI-FI performance, such as obstructions, structures, locations, other WI-FI, interference, etc.
Some CSx monitors have 802.11 WI-FI settings you can change to one of the 4 available combinations (5GHz or 2.4Ghz SISO or MIMO). Change those settings  to see if it makes a difference for your particular computer/device.
For Cellular/LTE mobile devices using Windows 10, go into your Windows Network & Internet settings to allow Windows to prefer Cellular in the section titled "Use cellular instead of Wi-Fi" and change the setting to "When wi-fi is poor". Note: You may have to update Windows 10 in order for this setting to be available.