Creating a Custom Overlay on
SeeSnake

Monitors

This article describes how to enter custom text that displays on a RIDGID® SeeSnake® monitor screen and captured media.

You can use custom overlay to advertise your company's name, note a job location, or enter other custom text. Custom overlay text is visible in live view and is burned onto captured media. The custom overlay appears on captured media until deleted.
Steps
Press the text key.

Type your text.

Reposition the text if desired by selecting the move icon and moving the text box to where you want it.

Press the select key to place it.

Select the check mark to save the overlay or the X to discard.

Choose to make your text a custom overlay, a photo with a note, or both (

CSx

monitors only).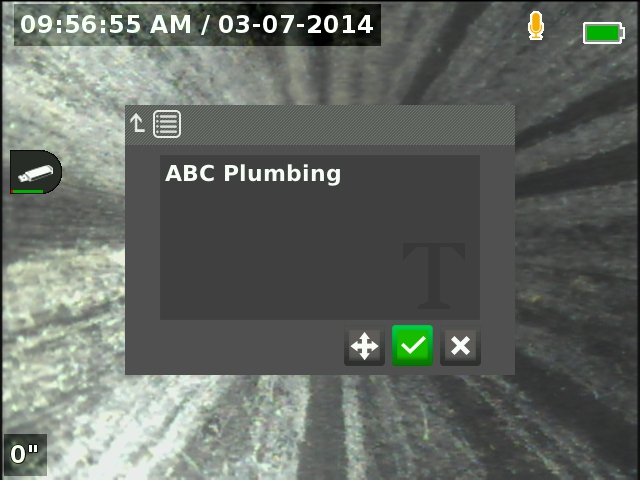 Deleting or Editing Custom Overlay
Press the text key.
Highlight Yes, delete or No, edit and press the select key.
How to add company information to jobs and adjust system settings on the SeeSnake CS6x and CS6x Pak.
How to capture PhotoTalk media on CSx Wi-Fi enabled monitors, the CS65, and the HQx Live mobile app.
Get started on using the new Bluetooth and Wi-Fi enabled SeeSnake CS65x digital reporting monitor.
Watch product highlights for the new RIDGID® SeeSnake® CS65x Wi-Fi enabled reporting monitor.
Learn how to record Autolog video, a compressed video format that leaves you more room for additional media.
How to save default inspector information to a RIDGID SeeSnake inspection monitor so you can quickly add it to reports.
Overview of performing a basic pipe inspection with a SeeSnake CSx Wi-Fi enabled monitor.
How to capture photos, PhotoTalk media, standard video, and Autolog video on the CS65x.
Capturing media, including photos, PhotoTalk images, Autolog video, and standard video on your CS6x or CS6x Pak.
Learn about connecting a CSx monitor to an Android device.
How to enter custom text that displays on a SeeSnake monitor screen and captured media.
How to quickly create and distribute inspection reports while on the job with a RIDGID SeeSnake monitor.
How to copy an open job from primary storage to the internal SSD or an inserted USB drive on the SeeSnake CS65x.