SeeSnake CS1000

Support

Download Manual
The RIDGID® SeeSnake® CS1000 is designed to provide a convenient accessible portal for all your pipe inspection, recording, monitoring, and report generation needs. Use the CS1000 with SeeSnake camera reels to make a complete inspection system.
The CS1000 will help you organize your inspections by grouping all the associated still photos, videos, Autolog videos, text notes, job location information, and customer information into "Jobs." Jobs give you a convenient way to transfer inspection data from the CS1000, and they form the basis for creating "Reports" in the CS1000. As you work with your CS1000, Jobs are automatically assembled from the information you collect during the inspection process, making organization easy to understand.
Your CS1000 is fully compatible with SeeSnake HQ Software. SeeSnake HQ quickly generates customized reports for your customer that can then be emailed, printed, burned onto DVD, or exported for viewing online. You can download the latest version of HQ for free here.
Ready for an upgrade? Learn about the CSx Wi-Fi enabled monitor series.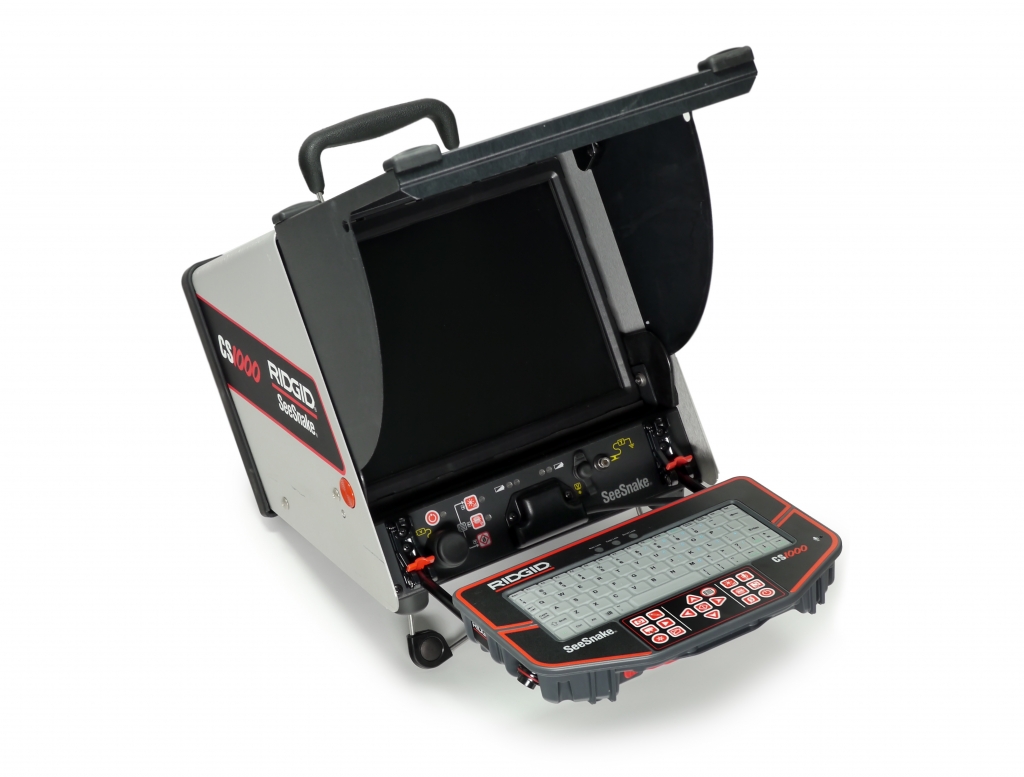 Learn how to record Autolog video, a compressed video format that leaves you more room for additional media.
How to save default inspector information to a RIDGID SeeSnake inspection monitor so you can quickly add it to reports.
Learn how to clean the components of a RIDGID SeeSnake Standard or Mini camera reel.
How to enter custom text that displays on a SeeSnake monitor screen and captured media.
How to quickly create and distribute inspection reports while on the job with a RIDGID SeeSnake monitor.
Learn how to install a camera onto a SeeSnake camera reel.
How to locate the path of a pipe by line tracing the push cable using a SeeSnake camera reel and monitor.
How to install and remove pipe guides on a RIDGID SeeSnake camera system.
Learn how to remove a camera from a RIDGID SeeSnake camera reel.
Best practices for using a RIDGID SeeSnake camera reel to increase the effectiveness of your equipment.
Watch this video to learn tips and tricks on getting the most out of your SeeSnake camera reel during a pipe inspection.
Finding points of interest in a pipe by locating the integrated sonde in a SeeSnake camera reel.
CS1000

FAQs

To Record a Video
Press the Video Key to start recording a video. Press the

Microphone Mute Key

to record video without audio. To stop the Video recording, press the Video Key one more time.
To Take a Photo
To take a Photo press the Photo Key.
To Take a Photo and Add a Note
Press the Photo Tag Key. This will take a photo and open up the Issue tag and Note screen where you enter your note using the CS1000 keyboard. When you are done, press the Select Key to save the note.
To Take a Photo and Add an Issue Tag
The CS1000 has a built-in library of Issue Tags which can be attached to images to describe common conditions found during

pipe inspection

s, such as cracks, root intrusions, collapsed pipes, etc. Notes and Issue Tags will appear, alongside the photos they describe, in reports you create for your customer.
Press the Photo Tag Key. When the Issue Tag and Note screen appears, use the left arrow to navigate to the Add Issue Tag button and press the Select Key to open up the Issue Tag Library. Use the arrow keys to navigate to the issue tag you want and then the Select Key to choose it. Press the Select Key to save the Issue Tag with the photo and exit the screen.
To Record an Autolog Video
Recording an Autolog Video is a great way to capture a highly compressed video of your entire inspection. An Autolog Video recording saves screen images at a lower frame rate than standard video, which results in a smaller file size. The smaller files make transferring and archiving your videos faster and easier. During an Autolog Video recording the audio will record continuously even at the reduced frame rate.
Press the Autolog Key once to start recording an Autolog Video. Press the Autolog Key a second time to stop the recording. You can capture additional photos and/or higher-quality video clips while recording an Autolog Video in the background by pressing the Photo Key, Photo Tag Key or the Video Key.