SeeSnake CS6

Support

Download Manual
The RIDGID® SeeSnake® CS6 is a compact, portable inspection monitor with built-in reporting capabilities. The CS6 captures audio, video, and still images to a USB drive and automatically generates professional-looking reports. With the CS6, you can deliver a USB drive with your inspection report to your customer without having to load media and edit jobs later. While the CS6 can connect to any SeeSnake camera reel, it conveniently docks onto the SeeSnake Max rM200 camera reel for easy transport and storage.
The CS6 comes with an 8 GB USB drive containing HQ Software, which gives you the ability to manage jobs, organize media and job information, and generate reports for customers.
Ready for an upgrade? Learn about the CS6x Wi-Fi enabled monitor.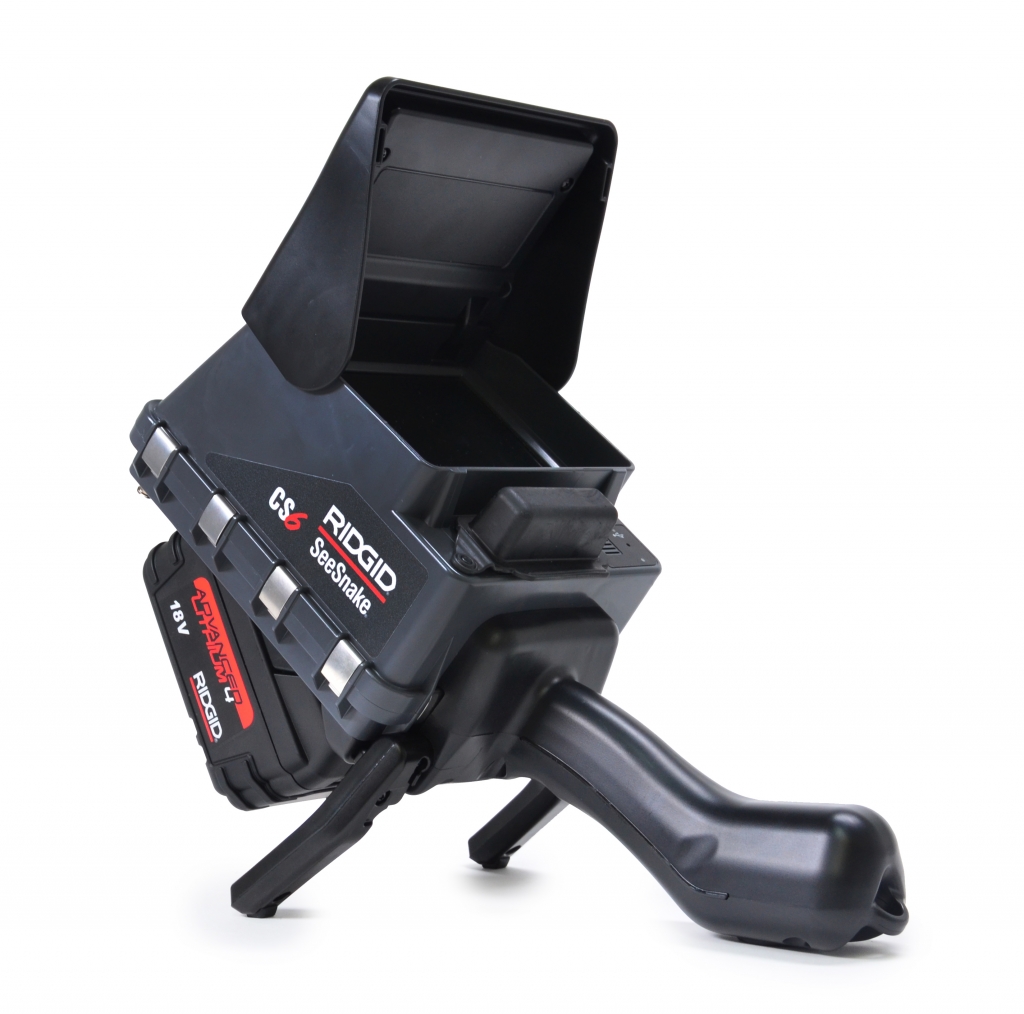 Learn how to record Autolog video, a compressed video format that leaves you more room for additional media.
How to save default inspector information to a RIDGID SeeSnake inspection monitor so you can quickly add it to reports.
How to enter custom text that displays on a SeeSnake monitor screen and captured media.
How to quickly create and distribute inspection reports while on the job with a RIDGID SeeSnake monitor.
How to locate the path of a pipe by line tracing the push cable using a SeeSnake camera reel and monitor.
CS6 FAQs
To record video:
Press the Video Key to start recording a video. Press the

Microphone Mute Key

to record video without audio. To stop the Video recording, press the Video Key one more time. To Pause the video, press theSelect key.
To record Autolog video:
Recording an Autolog Video is a great way to capture a highly compressed video of your entire inspection. An Autolog Video recording saves screen images at a lower frame rate than standard video, which results in a smaller file size. The smaller files make transferring and archiving your videos faster and easier. During an Autolog Video recording the audio will record continuously even at the reduced frame rate.
Press the Autolog Key once to start recording an Autolog Video. Press the Autolog Key a second time to stop the recording. You can capture additional photos and/or higher-quality video clips while recording an Autolog Video in the background by pressing the Photo Key or the Video Key.
To take a Photo
To take a Photo, press the Photo Key. This will capture a still picture of whatever is on your screen, and add it to the current job.
To add a note:
Press the Text Key. This will open up the Note screen where you enter your note using the onscreen CS6 keyboard. When you are done, press the Select Key to save the note.
Detailed operation instructions:
For more detailed instructions on how to operate the CS6, please see the included Operator's Manual. The CS6 Manuals can also be found online by clicking the links below: