SeeSnake CS6x

Support

Download Manual

RIDGID Product Page

Software Revision History
The RIDGID® SeeSnake® CS6x Wi-Fi enabled reporting monitor is an all-in-one solution for capturing media and delivering inspection results to your customers, all right from the job site. Built for speed and efficiency, the CS6x captures images and video directly to a USB drive. Professional multimedia reports are automatically created while you work, increasing your productivity and helping you move on to the next job.
The CS6x is compatible with all SeeSnake camera reels, and conveniently docks onto the SeeSnake Max rM200 for easy transport and storage.
Download HQx Live, the free iOS™ or Android™ companion app to use your mobile device as a second screen. Using its built-in Wi-Fi, pair a smartphone or tablet to the CS6x to provide uninterrupted, high-quality video streaming directly on the device, letting you show your customers the inspection in real-time. HQx Live also lets you capture media from a paired device.
HQ Software streamlines critical and routine updates which help improve and prolong the life of your equipment. HQ also gives you the ability to manage jobs and generate reports for customers. The included 8 GB USB drive comes with HQ preloaded.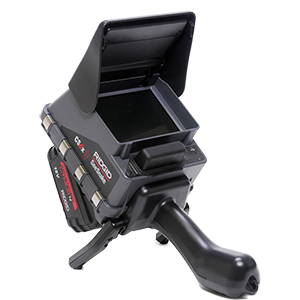 How to add company information to jobs and adjust system settings on the SeeSnake CS6x and CS6x Pak.
How to capture PhotoTalk media on CSx Wi-Fi enabled monitors, the CS65, and the HQx Live mobile app.
How to save default inspector information to a RIDGID SeeSnake inspection monitor so you can quickly add it to reports.
Overview of performing a basic pipe inspection with a SeeSnake CSx Wi-Fi enabled monitor.
Capturing media, including photos, PhotoTalk images, Autolog video, and standard video on your CS6x or CS6x Pak.
Learn about connecting a CSx monitor to an Android device.
How to enter custom text that displays on a SeeSnake monitor screen and captured media.
How to quickly create and distribute inspection reports while on the job with a RIDGID SeeSnake monitor.
How to locate the path of a pipe by line tracing the push cable using a SeeSnake camera reel and monitor.
Learn how to create, open, preview, and manage jobs on the CS6x and CS6x Pak, as well as set USB options and job settings.
Finding points of interest in a pipe by locating the integrated sonde in a SeeSnake camera reel.
Learn how to update software on all CSx monitors, including the CS65x, CS6x, and CS6x Pak.