Quick Access Menus
Quick Access menus are shortcuts that let you perform common tasks quickly on SeeSnake® CS65x, CS65xr, CS6x, CS6xPak, CS6x Versa, or CS12x monitors.
There are two Quick Access menus. Press the left or right arrow key to open the desired menu. Then select the task you would like to perform.

 Press the Menu key to exit out of the Quick Access menus.
Left Menu 
New Job
Close Job
Preview Job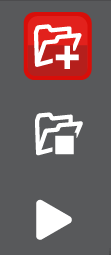 Right Menu