Click entries with a "+" to show additional information about the software update.
Updates and Improvements
Improves aspect ratio for images and video.
First CSx Via software release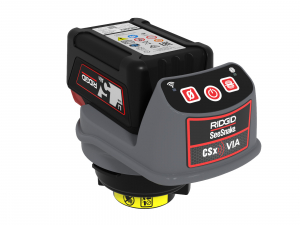 How to install the CA-350 Adapter for using the RIDGID micro CA-350 for the RIDGID SeeSnake microReel, microDrain, or nanoReel systems.
The CSx Via Mount accessory allows you to use the CSx Via with the SeeSnake Standard and Mini camera reels.
How to view the odometer on SeeSnake camera reels with TruSense technology.
The RIDGID® SeeSnake® HQx Dock is a tablet mounting device for convenient screen viewing while performing inspections with the HQx Live mobile app or SeeSnake HQ.
How to use Inductive Clamp Mode on the ST-305 & ST-305R
The TiltSense inclinometer calculates the angle of the camera head, providing an indicating of the pitch of the pipe. Read more about using TiltSense here.
Read this article to learn how to retrofit the TruSense cable counter to RIDGID® SeeSnake® Standard and Mini camera reels.