SeeSnake CS10

Support

Download Manual

RIDGID Product Page
The SeeSnake® CS10 is a portable monitor and camera control unit designed to easily connect to any SeeSnake camera reel. The CS10 can capture audio, video, and still images and assemble them automatically into an HTML report on a USB thumb drive. The CS10 contains readily accessible controls to adjust the camera and the display, and to control the in-line sonde built into many SeeSnake
cameras.
The built-in sonde enables the operator to locate the camera underground. The CS10 can also be connected to an external Line transmitter which can line trace the path of a SeeSnake cable in a pipe.
The CS10 is also fully compatible with SeeSnake HQ Software. HQ quickly generates customized reports of inspection media, which can be emailed, printed, burned onto DVD, or exported for viewing in a web browser.
Ready for an upgrade? Learn about the CSx Wi-Fi enabled monitor series.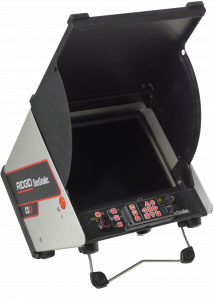 Learn how to record Autolog video, a compressed video format that leaves you more room for additional media.
How to save default inspector information to a RIDGID SeeSnake inspection monitor so you can quickly add it to reports.
How to enter custom text that displays on a SeeSnake monitor screen and captured media.
How to quickly create and distribute inspection reports while on the job with a RIDGID SeeSnake monitor.
How to locate the path of a pipe by line tracing the push cable using a SeeSnake camera reel and monitor.
CS10

FAQs
If using a SeeSnake

pipe inspection

system with a built-in sonde, detect the camera's location underground by using a locator such as the RIDGID SR-20, SR-24, SR-60,

Scout

or NaviTrack II.
Press the

Sonde Key

on the CS10 to turn the sonde ON and OFF.
Run the SeeSnake push cable from 5 ft to 10 ft [1.5 m to 3 m] into the pipe.
Use the locator to find the sonde's position by setting it to Sonde mode and by scanning in the direction of the sonde's probable location until the locator detects the sonde.
If desired, extend the SeeSnake push cable farther down the pipe and locate the sonde again starting from the previous located position.
Once you have detected the sonde, use the locator indications to zero in on its location precisely.
For detailed instructions on sonde locating, consult the Operator's Manual for the locator model you are using.