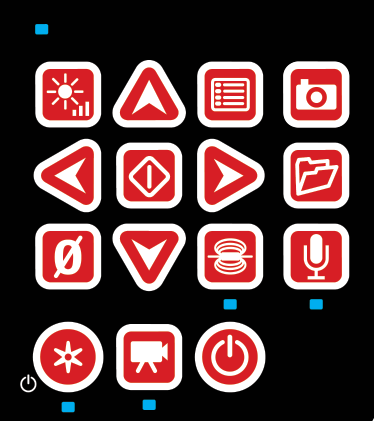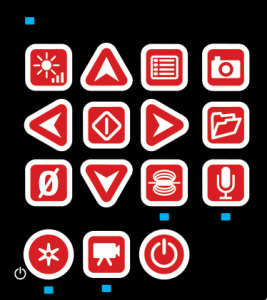 Key
Key Name
Function
  Power
Power on and off.
 Select/Pause
Select highlighted items and apply changes. When recording standard video or

Autolog

video, press to pause and resume recording.
  Menu
Open the menu to modify settings, including connectivity, reel, camera, region, and more. Press to exit out of tabs and screens.
  Photo/PhotoTalk™
Press to capture a photo or press and hold to create PhotoTalk media. Default key action can be swapped in the settings menu.
  Video
Start and stop standard video recording.
  

Autolog

Start and stop

Autolog

video recording. Optionally press once to power on and start

Autolog

video recording simultaneously.
  Job Manager
Open the Job Manager to view the job list, create a new job, preview an existing job, enter company information, or delete jobs from the USB drive or external SSD. Access storage and formatting options, and add default inspector contact information.
  LED Brightness
Control the brightness of the LEDs in the camera.
  Zero
Long press (>3 seconds) to set the system measurement to zero at the beginning of an inspection. Short press (<1 second) to start and stop temporary segment measurements. The temporary segment measurement appears in brackets.
  Sonde
Enable and disable the sonde.
  Microphone Mute
Enable and disable the microphone.